Miss Venezuela 2011 beauty pageant in it's 59th year will be held on October 15 at the Venevision Estudio 1 in Caracas. It will be hosted by Daniela Kosan and Leonardo Villalobos.
Miss Venezuela 2011 Beauty Pageant
Candidate Profile
Miss Cojedes
Name: Angela Beatriz Ramirez Gutierrez
Age: 21
Height: 174m
Hometown: Merida
Photos: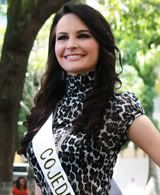 Miss Venezeuela 2010 winners: Vanessa Goncalves, Ivian Sarcos, Jessica Barboza and Caroline Medina will crown their respective successors at the event.
Miss Venezuela is organized by it's president, Osmel Sousa. This year's contest will be broadcasted live by Venevision.
The new winners will represent Venezeuela in next year's Miss Universe, Miss World, Miss Earth and Miss International pageants.
source: (Thank you and credits to
http://www.universalqueen.com/
and all sources for the information and pictures)